Infos
General
The Engstfeld/Weiss-Quartet
In this day and age when most musical collaborations seem to have the life expectancy of a fruit fly, the more than 40-year musical alliance of Wolfgang Engstfeld and Peter Weiss stands in almost direct opposition. Their collective efforts have ranged from duo appearances, the trio "Engstfeld-Plümer-Weiss", several quartets, the quintet "Changes" on up to the ten-piece ensemble "Jazzpool NRW". A catalog of ca. 20 LP's/CD's documents some of the output of this team.
In addition, one must also consider the-hundreds of festival performances, radio and/or television productions and countless concerts and club appearances. The newest edition of the Engstfeld/Weiss legacy is yet again a quartet – without question, their favorite format – founded in 1996, along with the bassist Christian Ramond and the Cologne-based pianist Hendrik Soll, they have formed an ideal ensemble that possesses the ability to create inspired music with an uncanny sense of stylistic unity that is both unique and open to contemporary stimuli. The material this quartet mostly performs is exclusively by the band members and can be heard in part on four CDs. In 2006, they released a record with new arrangements of the music of Robert Schumann, inspired by the lyrics of Heinrich Heine. "Back to Ballads", an album containing only jazz-ballads, was released in 2009.
This particular "Engstfeld/Weiss Quartet", in addition to its engagements and productions in Germany, has also enjoyed several successful ventures abroad including the 850-year celebration of Moscow, a concert tour of Japan in 1997 and a concert performance at the Kuwait Jazz Festival. In 1999, the quartet toured in Australia and China. In Autumn 2002, the band worked in Portugal, 2003 again to Moscow, 2004 Poland and South Africa. 2006 there were concerts in Portugal and again a collaboration with Randy Brecker. In 2008, there were several successful concerts in brasil, e.g. at the "Savassi Festival" in Belo Horizonte. Concerts in Touluse and Izmir followed in 2011.
Wolfgang Engstfeld
Tenor Saxophone / Composer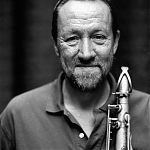 Born in 1950 in Düsseldorf Germany, Wolfgang Engstfeld began playing saxophone at age 14. In addition to his initial musical experiences in the Rhineland, he furthered his musical studies in Graz, Austria. During this time, Mr. Engstfeld received several awards for his talents including first prizes at the Roermond and San Sebastian Festivals as well as the convented New Talent Prize from the city of Düsseldorf.
In the early 70's, he formed the group "Jazztrack" along with trumpet player Uli Beckerhoff, bassist Sigi Busch and drummer Heinrich Hock. This band marked Mr. Engstfeld's recording debut. In total "Jazztrack" made four recordings. His next major projects began in 1978 with the quintet "Changes", a group which greatly influenced subsequent generations in the German jazz scene, and the "Wolfgang Engstfeld-Michel Herr Quartet" which included drummer Leroy Lowe and bassists Palle Danielsson, Isla Eckinger and Detlev Beier. Each band produced two recordings which featured numerous compositions by Mr. Engstfeld.
The beginning of the 1980's marked yet another turning point with the formation of the trio "Engstfeld/Plümer/Weiss". This band enjoyed a long and fruitful career with many highlights including tours and recordings with such prominent colleagues as Terumasa Hino (1987) and Randy Brecker (1989, 1990). Three recordings from this period document the trio at some of its finest.
Since 1988, Mr. Engstfeld has been largely working in the quartet format with his long-time associate, Peter Weiss. The initial "Engstfeld/Weiss-Quartett" with pianist Achim Kaufmann and bassist Hartmut Kracht recorded one CD in 1990. This was followed up by the recording "Songs and Ballads", which featured pianist Bob Degen and bassist Isla Eckinger. The latest edition of the quartet features pianist Hendrik Soll and bassist Paul Imm. Their debut recording (and Mr. Engstfeld's most recent recording), "59:59", has received critical acclaim both in Europe and abroad. This latest quartet toured Japan in 1997.
Festival, radio and television productions have featured Mr. Engstfeld in the above mentioned groups as well as with the following: John Scofield, Chet Baker, Albert Mangelsdorff, Ack van Rooyen, Jon Christensen, Ricardo del Fra, Bruno Castelluci, Eberhard Weber, Norma Winstone, Jasper van't Hof and many, many more.
In addition to his work as a performer / composer / arranger, Mr. Engstfeld has taught at various music schools and workshops. In 1986, he was hired as an associate instructor of saxophone at the Muskhochschule Köln (MHS) in Cologne, Germany. He continues to teach at the MHS where he has been a full professor since 1992.
Peter Weiss
Drums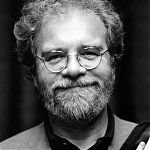 Working as a jazz musician since more than 40 years.
Concerts and tours with musicians like:
Uli Beckerhoff, Peter O'Mara, Gunnar Plümer, Hugo Read, Zbigeniew Namyslowski, Reiner Witzel, Gerd Dudek, Ed Kröger, Hendrik Soll, Benny Bailey, Jarek Smietana, Norma Winstone, Bob Degen, Matthias Nadolny, Al Grey, Michael Küttner, Achim Kaufmann, Reiner Winterschladen, Christof Lauer, Hal Singer, Andrew White, Tata Din Din, Glen Moore, Manfred Schoof, Charlie Mariano, Randy Brecker, Terumasa Hino, James Moody, Paul Imm, Piotr Wojtasik, Christopher Dell, Dieter Manderscheid, Matthias Schriefl, Wolfgang Schmidtke, Hans Reichel, Conny Bauer, Rhani Krija, Arkadi Shilklopper, Jõao Moreira, Pablo Held, Martin Sasse, Daniel Casimir, Phillip van Endert, Wolfgang Engstfeld et al.
Festivals:
Hamburg, Leverkusen, Gent, Moers, Burghausen, Nancy, Warschau, Nürnberg, Düsseldorf, Krakau, Brüssel, Raab, Wolfsburg, Ljubljana, Balve, Hildesheim, Marburg, Kuwait, Poznan, St. Ingbert, Sevilla, more than 3000 concerts and club gigs.
Toured in countries like:
Netherlands, Belium, Luxembourg, Austria, Poland, Italy, France, Namibia, Kuwait, Japan, Russia, Jugoslawia, Spain, Switzerland, Australia, China, South Africa, Czecheslowakia, Brasil, England, Turkey.
New Talented Price for musicians in Düsseldorf 1981,
Member of the Music-Jury Düsseldorf 1990–1995, Jury "Jugend jazzt" NRW, Organisation concertseries "Jazz im Hofgarten Düsseldorf" since 1979, artistic director of the JazzRally Festival 1996–1999 and "Five Continents" Expo 2000. Leader and founder of the Jazzpool NRW since its foundation 1989.
Teaching:
Jazzworkshops in Biberach, Braunschweig, Darmstadt, Heilbronn, Ibbenbüren, Bielefeld, Leader of Düsseldorf Jazzclub "Alte Schmiede", Radio- and TV-Productions for mostly every german station, u.a. feature in "aspekte".
Hendrik Soll
Piano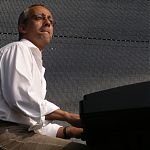 Studied Jazz-Piano at the Music University Cologne, toured in Australia, Japan, India, Kuwait, Poland. Concerts at the Jazzfestival Berlin, Kempten, Cracow, Leverkusen, Leipzig, Sydney, Viersen, Jazz Baltica Salzau. 2004 Concerts with Bob Brookmeyer's New Art Orchestra in New York at the IAJE-Conference and at the Village Vanguard.
Concerts and Projects with
… Benny Bailey, Stefan Bauer, Uli Beckerhoff, Gustavo Bergalli, Marion Brown, Sheela Cooper, Ricardo del Fra, Gunter Hampel, Thomas Heberer, Paul und Ingmar Heller, Ed Howard, Bendik Hofseth, Paul Imm, Chaka Khan, Michael Küttner, Bart van Lier, Andy Middleton, Mathias Nadolny, Peter O`Mara, Gunnar Plümer, Hugo Read, Mathias Schubert, Alan Skidmore, Jo Thönes …
CD's:
"Faces of the Duke" – Joachim Ullrich
"Motions & Emotions" – Michael Sagmeister
"Seize The Day" – Silvia
"59:59" – Engstfeld/Weiss-Quartett
"Lisboa" – Engstfeld/Weiss–Quartett
"Happy" – Stephan Scheuss
"Invention of Rooms" – Andre Nendza Quartett
"Wild Open Rooms" – Andre Nendza Quartett
"In The Wee Small Hours Of The Morning" – Valk Trio
"Tunnel Vision" – Ansgar Striepens/Ed Partyka Big Band
"Jazz 2000" – Matthias Haus
"Get Well Soon" – Bob Brookmeyer's New Art Orchestra feat. Till Brönner
At the moment, Soll works with trombone-player Henning Berg, with Bob Brookmeyer's New Art Orchestra, the André Nendza Quartet and the project "scheuss.phier".
In the year 2000, Soll started teaching Jazz-Piano and Ensemble at the Johannes-Gutenberg-Universität in Mainz, since 2003 he leads the Jazz and Pop department.
Homepage: www.hendriksoll.de
Christian Ramond
Double-Bass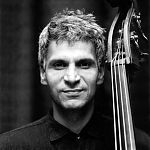 1983–1987 studied at the Music University Cologne
played on various TV-, Radio- and Theater-productions
Concert and tours in Europa, Australia, New Zealand, Japan, China, Syria, Egypt, Sudan, Mexico,

USA

, Canada
Festivals in Cologne, Leverkusen, Leipzig, Burghausen, Kempten, Wiehl, Hannover, Frankfurt, Rostock, Münster, Damaskus, Sydney, Yokohama, Montreal, Vancouver, San Fransisco, Varna, Amsterdam, Van Jing
Worked together with: J. Pass, A.Mangelsdorf, P.Catherine, K.Wheeler, Lee Konitz, Ch.Mariano, Th.Stanko, B.Shew, Jon Eardly, D.Liebman, K.Berger, Itaru Oki
Actual Bands:
Engstfeld/Weiss-Quartett, D.R.A., Michel Pilz-Trio, Theo Jörgesmann-Quartett, Praskin-Köhler-Quartett, Atlantic Auge
Diskographie:
"Melusian" and "Arbor" with Michel Pilz
"Future of the smallest form" and "D.R.A. Real" with D.R.A.
"Ta Eko Mo", "Snyblomen" and "Hybrid Identity" with Th. Jörgesmann-Quartet
"Signs Lings" with Jochen Feucht Trio
"Weirdos" with Peter Weniger Quartett
"Lisboa" with Engstfeld/Weiss-Quartett
"Planetarium" with J.Singla-Blumenbein
"Around Jazz" with Praskin-Köhler Quartett
"Atlantic Auge" and "Schnee in …" with Atlantic Auge
The Schumann-Project
The melodic elegance and the romantic harmonics of Robert Schumanns music inspired by the lyrics of Heinrich Heine have been the most improtant factor for the group to realise this project. Of course, Engstfeld and Weiss have the same hometown as Heine and Schumann, but this wasn't the main reason to work on a program like this, which combines the best of two worlds.
"Dichterliebe" – four musicians love their poet
Journeys to distant lands never fail to make their indelible impression on artists. The composer Felix Mendelssohn Bartholdy first travelled to Scotland, then to Italy – and dedicated symphonies to both countries. The Danish big band leader Pierre Doerge performed in Gambia – to return with his fantastic CD "Brikama". The jazz pianist Keith Jarrett went to Cologne and Tokyo – and the live recordings of those two performances are his most famous albums to date.
The Engstfeld-Weiss Quartet from Düsseldorf has also travelled on numerous occasions, finding sparks of inspiration on the trips. After performances in Portugal, the four musicians used their stimulating impressions for their CD "Lisboa". Now they are travelling again – back into the past. Their destination lived only a few hundred metres beyond the river Rhine in Düsseldorf: Robert Schumann. Those times as the municipal director of music weren't easy for him. He went through years of depressing experiences – both at an artistic and at a personal level.
All this was a long, long time ago. But for artists such as Wolfgang Engstfeld (tenor saxophone), Hendrik Soll (piano), Christian Ramond (bass) and Peter Weiss (percussion), the past has never been a dead space. For the album "Lisboa", Soll had already composed a "Song without words" as a subtle homage to Mendelssohn. Now the quartet has recorded a new CD with the title "Dichterliebe" which – as implied by the name – is exclusively about Robert Schumann and selected songs from his famous cycle (setting Heinrich Heine's words to music).
The title has a deeper meaning. For the Engstfeld-Weiss Quartet, Schumann truly is a sound poet who the musicians have learned to love – not only because he was a local patron and the 150th anniversary of his death will be commemorated in 2006, but also because he provides a wonderfully open basis for jazzy trips.
Wolfram Goertz, critic "Rheinische Post" Düsseldorf